Cross-Sector Series Overview
Digital transformation is having profound impacts across all industries. This series of reports is intended to demonstrate how software-enabled technologies and innovative companies are enabling the creation and improvement of business processes, culture, and customer experiences across sectors.
Automotive: Digital Tools Help Drive the Next Era of Transportation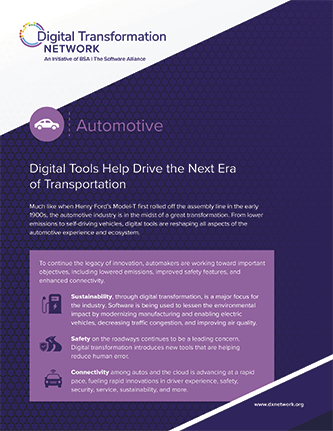 Digital Technologies Fuel Rapid Growth and Transformation
To continue the legacy of innovation, automakers are working toward important objectives, including lowered emissions, improved safety features, and enhanced connectivity.
Sustainability, through digital transformation, is a major focus for the industry. Software is being used to lessen the environmental impact by modernizing manufacturing and enabling electric vehicles, decreasing traffic congestion, and improving air quality.
Safety on the roadways continues to be a leading concern. Digital transformation introduces new tools that are helping reduce human error.
Connectivity among autos and the cloud is advancing at a rapid pace, fueling rapid innovations in driver experience, safety, security, service, sustainability, and more. July 2022
Download Report
Sustainability: Digital Tools for a Sustainable Future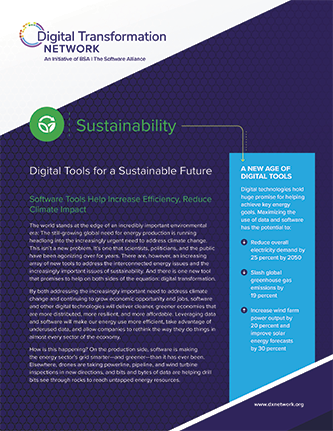 Software Tools Help Increase Efficiency, Reduce Climate Impact
Digital technologies hold huge promise for helping achieve key energy goals. Maximizing the use of data and software has the potential to:
Reduce overall electricity demand by 25 percent by 2050
Slash global greenhouse gas emissions by 19 percent
Increase wind farm power output by 20 percent and improve solar energy forecasts by 30 percent. April 2022
Download Report
Manufacturing: Digital Tools Transform How Things Get Made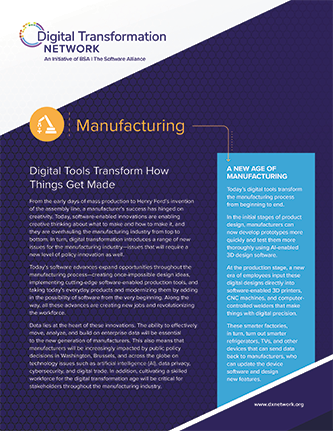 A New Age of Manufacturing
Today's digital tools transform the manufacturing process from beginning to end. In the initial stages of product design, manufacturers can now develop prototypes more quickly and test them more thoroughly using AI-enabled 3D design software.
At the production stage, a new era of employees input these digital designs directly into software-enabled 3D printers, CNC machines, and computercontrolled welders that make things with digital precision.
These smarter factories,in turn, turn out smarter refrigerators, TVs, and other devices that can send data back to manufacturers, who can update the device software and design new features. April 2022
Download Report
About the Digital Transformation Network
The Digital Transformation Network (DTN), an initiative of BSA | The Software Alliance, brings together cross-sector business and technology leaders for constructive dialogue and information exchange in the areas of government regulation, public policy, and impacts to society associated with software-enabled digital transformation. Charter subscribers represent market leaders experiencing digital transformation across advanced manufacturing, automotive, consumer goods, energy, financial services, healthcare, retail, media, and telecommunications industries.